Table of Contents:
How to Access Client Portal
If it is your first time using the Client Portal:
You will receive an account activation email with the title "Activate your [ORGANIZATION] account" (eg. "Activate your Adracare account").
To activate your account, please do the following:
Open the email
Click on the Activate Account button




Enter your email on the following screen (this will be your login email)




Enter a password which

should be a minimum of

8

characters

and contain a combination of

:

numbers, uppercase/lowercase, special characters.




Enter your activation code (which would have been sent to your phone number on file)





If you do not see the code, click Resend Code

If you still do not receive a code, please check to ensure you phone does not have an auto spam blocker where the message may have been sent. If you are unable to locate the message please reach out to support@adracare.com with your name, phone number and organization/clinic you are connected to.





Finally click Create Account


If you have already created your account:
Navigate to the appropriate URL (eg: ca.adracare.com/portal/login) and enter your existing login details

Appointments Page
Once you have logged in you will be able to view a snapshot view of your upcoming appointments.

If you select the "Past Appointments" options this will provide a list of any past appointments you have had.
To book a new appointment, select the "Book Appointment" button which will then prompt you to select either re-book an existing service or request a new service.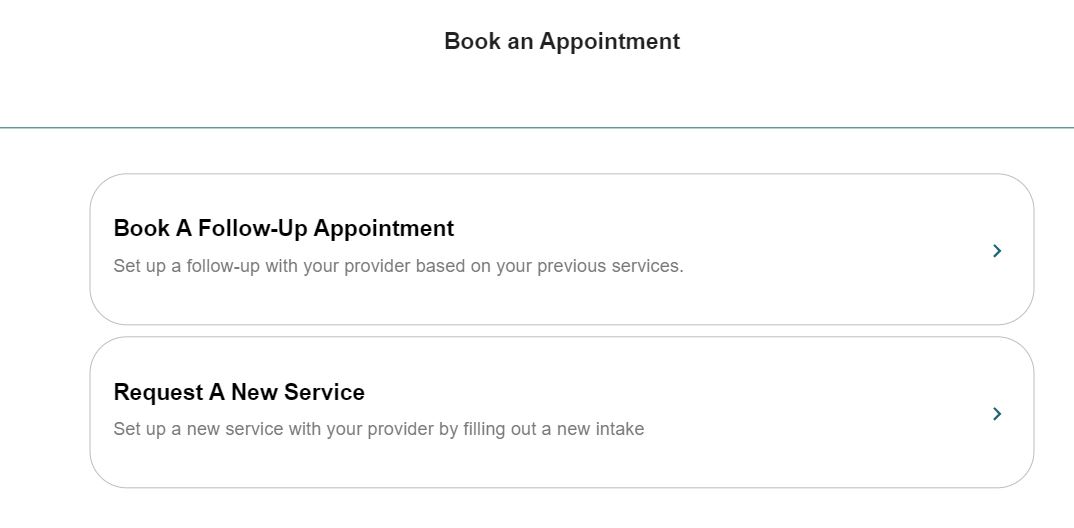 If there is no suitable availability when attempting to book a follow up appointment, please contact the clinic/organization directly.
Secure Messages
Select the "Inbox" icon at the top of the page will navigate you to your secure messages inbox. This will provide you with access to a chat with your provider (the chat will need to be initiated by your provider in order for it to appear here). Once the chat pops up, you will be notified of any new messages via email and will be able to view the chat history between yourself and your provider.
Profile Information
Selecting the profile icon on the top right will allow you to view your 'Profile', 'Account' and 'Payment' pages.
Your profile page will allow you to update your contact and personal information if required.
Your account page allows you to update your language and timezone settings. Please note all appointment reminder emails will be sent based on the timezone that is saved to your profile.
The Payment page will allow you to save your card on file for faster transactions in the future. For more information on saving a payment method please see here.
To log out of the platform, select the "Logout" button at the bottom of the profile page.