Table of Contents
For improved privacy and security you are able to apply a blur effect to your video. This can be done either when joining the appointment or while in an appointment.
Toggling Blur On/Off when joining an appointment
As a provider:
Navigate to the appointment from your Calendar
Click Join Session
This will bring you to the waiting room
As a client:
Go to the Appointment Confirmation Email.

In the appointment confirmation email, you will see the details of your appointment (i.e., the date, time, appointment link and access code).

Copy the 6-digit Access Code

Click on the Appointment Link.

Once you click on the appointment link, you will be prompted to the access code page.

Paste the 6-digit access code and click on the Join Appointment button.

This will bring you to the waiting room
Once in the waiting room you are able to turn on or off the blur effect by checking/unchecking the Blur checkbox.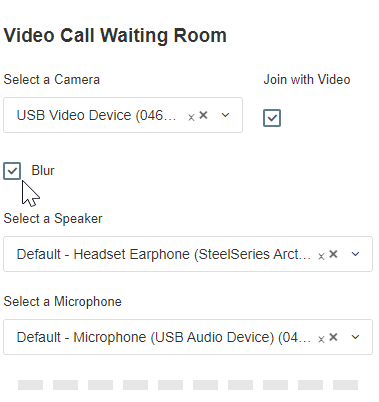 After selecting the appropriate Camera, Speaker and Microphone press the Click to Join Call button to join your session.
Toggling Blur On/Off during an appointment
In order to toggle blur on or off during an appointment take the following steps:
From the bottom tool panel click on the Settings & Support gear icon


Now check or uncheck the Blur button




Closing the window you will now see that your blur option has been saved