**Download the approved templates at the bottom of this page**
Use the Bulk Uploads feature to:
Create users (providers, provider-admins or other roles if applicable) in bulk
Create linkages between the Support Staff users (for applicable environments) and their providers
Before you use the Bulk Uploads feature:
Learn how to set up your files:
Requirements for all imports:
The import file must be .csv
Use the appropriate template for the type of import that you are doing

"Provider" - Use import_template_provider_create.csv
"Provider support staff relation" (for applicable environments) - Use import_template_provider_support_staff. csv

The import file should be smaller than 20MB

Do not rearrange the columns
Upload a separate file per organization/division
Create users:
Go to My Organization>Bulk Uploads
Under Start a New Upload, click New Upload
Select "Provider" in the Type of Upload drop down
Select your file (

Max file size allowed is 20MB

) - Make sure your file is using the import_template_provider_create.csv template file to create new users.

Click Upload to start the Upload
Create linkages: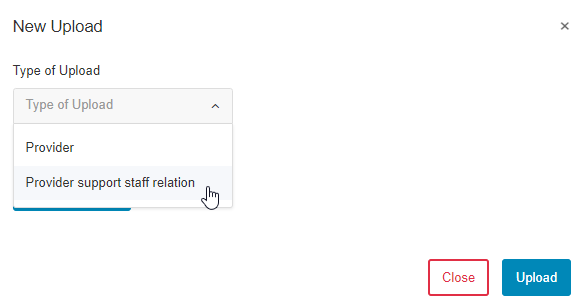 Upload History
You can see a list of your uploads in Upload History:

- Click View Results to see the details of your upload which will indicate if any lines failed the upload and will provide a reason.