Accessing Notification Templates
Email and SMS Notification Templates can now be found in the side-navigation menu in My Organization > Notification Templates for those who are Provider Admin or an Office Staff
Creating Email Notifications
Click New Template to create a new SMS notification template and configure the following settings in order to start editing the template body:

Type the

 

name

 

of the notification

Tip:

 

Append names with "- Virtual" or the name of physical location to which the notification applies. This will make it easier to find if you set up

 

location-based notifications.

Select a

 

Notification Type

 

from the dropdown.
Select the

 

Access Roles

 

from the dropdown to whom the notification will be sent.
Type a

 

description

 

of the notification (optional).
Select the

 

Location

 

from the dropdown to where it will apply. By default this will be set to "All" locations.
Select "Create a new SMS Notification".
Default copy will pre-populate.
Create

 

the notification.
Click the

 

Activate

 

button for the template that you created.

Editing the SMS template
Click on an existing template in My Organization > Notification Templates with an "SMS" format.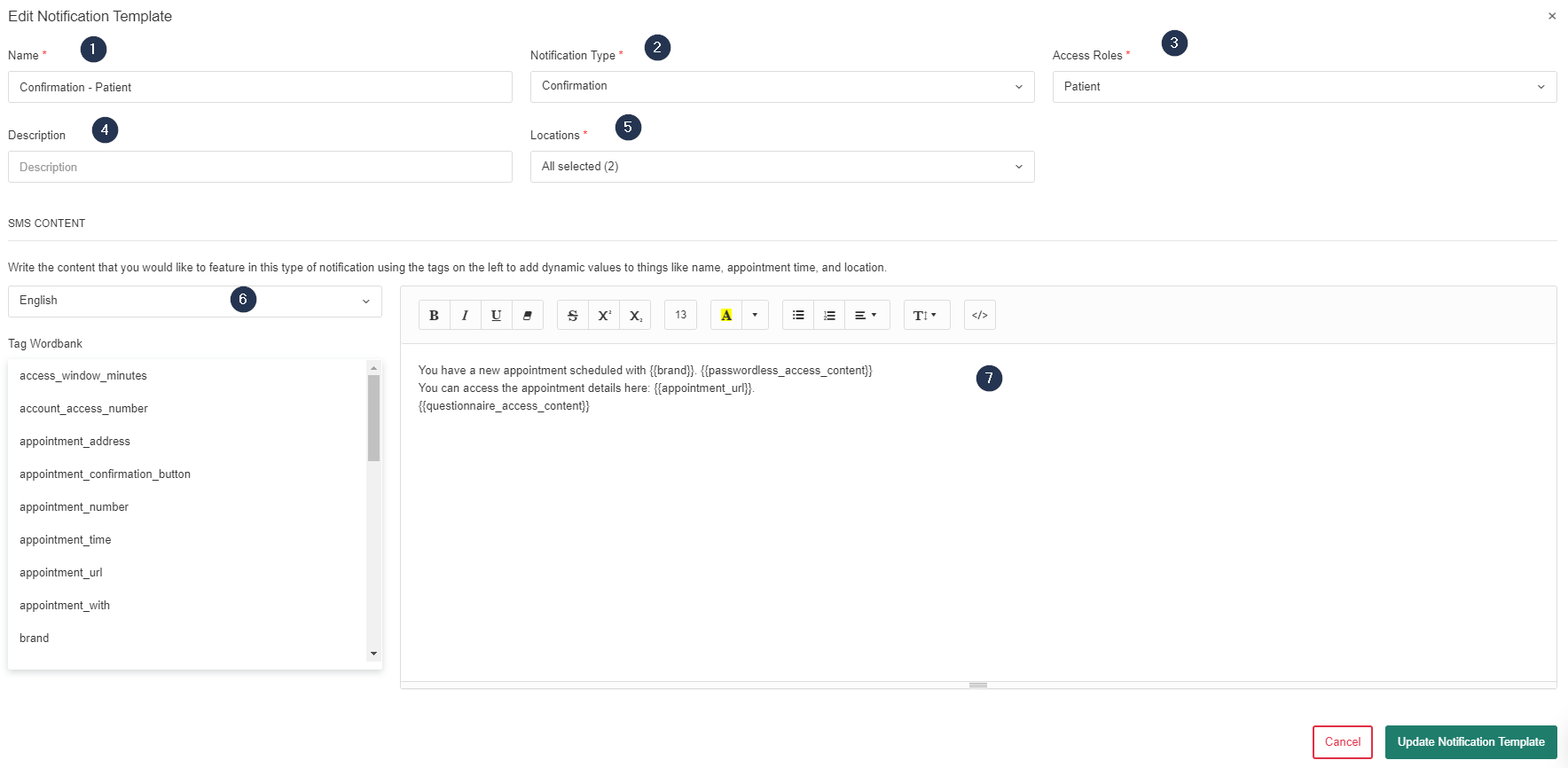 Edit the name.
Edit the Notification Type.
Edit the recipient(s) by clicking one or more Access Role(s).
Deactivate the template status to disable the template, if needed
Edit a description of the notification.
Select a language (defaulted to "English")
Edit the copy as needed.
Click "Update Notification Template" to save your changes.
Note: If editing a Reminder template, you can change timing to send out a SMS Appointment Reminder to 3 days, 1 day, 12 hours, or 6 hours prior to an appointment's start date.
You can incorporate tags in your customized template to ensure certain information is being pulled from the appointment details. The following table shows what each tag will display in the email if selected:


| | |
| --- | --- |
| Tags | How Tag Appears in an SMS |
| appointment_time | Date and time of appointment |
| brand | Your organization name displayed |
| passwordless_access | Please use the access code <ACCESSCODE> and the link <APPOINTMENTLINK>. You can only join the session 15 minutes before the appointment start time. |