Accessing Notification Templates
Voice notifications allow patients to receive phone calls for their appointment notifications in addition to email and SMS notifications.
To set up voice notification, go to My Organization>Notification Templates and when you create a new template select the "Create a new Voice Notification". We have provided a default copy to get you started.


Creating Email Notifications
Click New Template to create a new voice notification template and configure the following settings in order to start editing the template body:

Type the

 

name

 

of the notification

Tip:

 

Append names with "- Virtual" or the name of physical location to which the notification applies. This will make it easier to find if you set up

 

location-based notifications.

Select a

 

Notification Type

 

from the dropdown.
Select the

 

Access Roles

 

from the dropdown to whom the notification will be sent.
Select the Healthcare Service(s) from the dropdown
Type a

 

description

 

of the notification (optional).
Select the

 

Location

 

from the dropdown to where it will apply. By default this will be set to "All" locations.
Select "Create a new Voice Notification".
Default copy will pre-populate.
Click on Enable keypad responses for this template (Ex. Press 1 to confirm)
Click on Create Notification Template.
Click the

 

Activate

 

button for the template that you created.

Editing the template body
Typing in the text box as indicated by the red rectangle in the picture below will allow you to create your own template from scratch.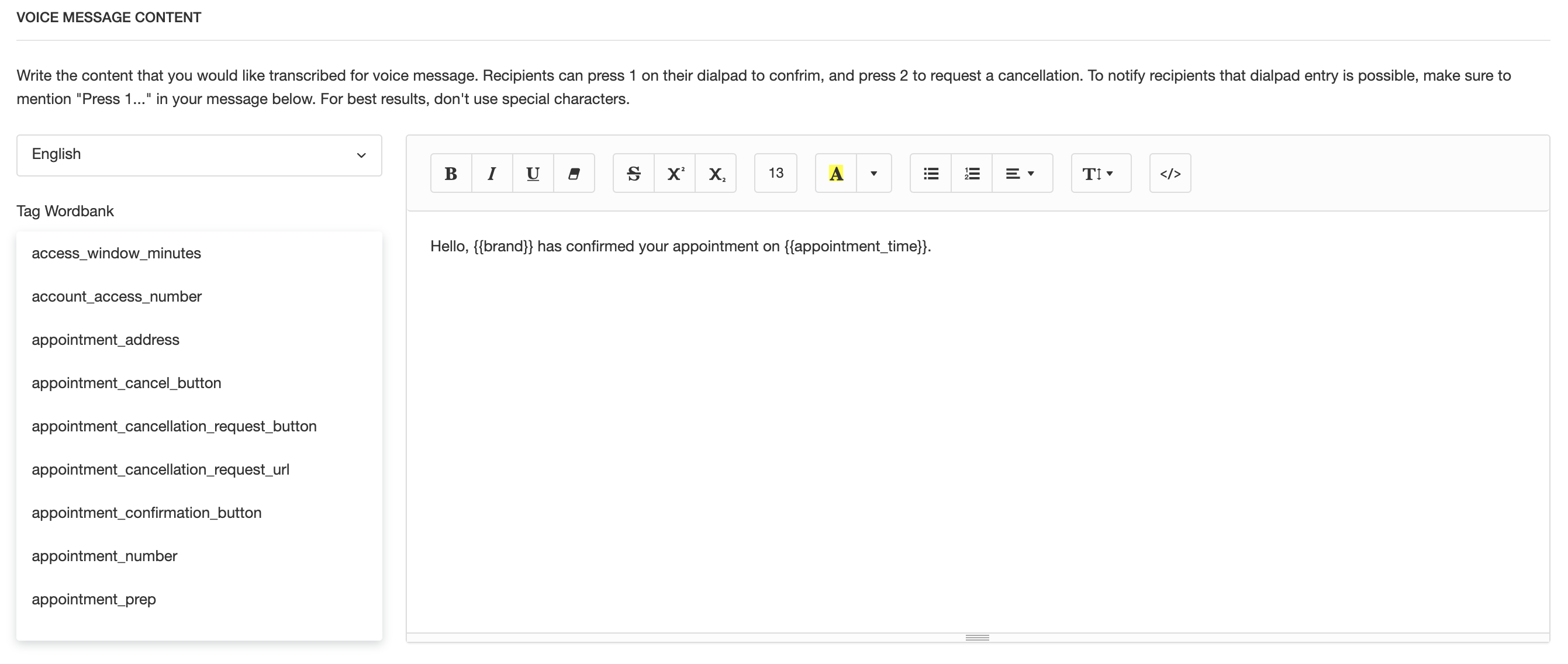 You can incorporate tags from the wordbank (left column) in your customized voice template to ensure certain information is being pulled from the appointment details such as the patient's name, provider's name, access code for the session, etc.

*Note: Patients will also need to consent to receiving voice notifications. Make sure the "Voice Communication Consent" box is checked in their CPP under Patient Details.
Tips
If the voice notification says random letters or symbols when reading our your customized message, click the "View Code" button (looks like </>) and remove the code formatting (example below in yellow).