Table of Contents
Accessing your Provider Profile Settings
Login to the platform
Select your name in the top right hand side which will bring down a drop menu

Select My Profile

Updating your Professional Information
As a provider you are able to add specific qualifications to your profile. These will be viewable by clients on their client portal when they view an appointment with you, and can also be configured to appear within notifications. 
To add a qualification please take these steps:
Within the Professional Information section click Edit


Type to search or scroll to find any relevant qualifications and click to add them




Once completed click Save to save the changes or Cancel to stop editing


Existing Qualifications can be removed by clicking the x beside the title.
Specialty Billing Code
Adding a Specialty Billing Code
If you would like to add a specialty with matching billing code please take the following steps:
 Under the Specialty section click New




In the window that appears, select the specialty you would like to add and the appropriate billing id




To add multiple specialty codes click Save and Add or Save and Close if only adding one
Removing a Specialty Billing Code
To remove an existing code click the red garbage can




Click Confirm on the window that opens


Updating your Billing Information
You are able to update your information that will appear on invoices in this section.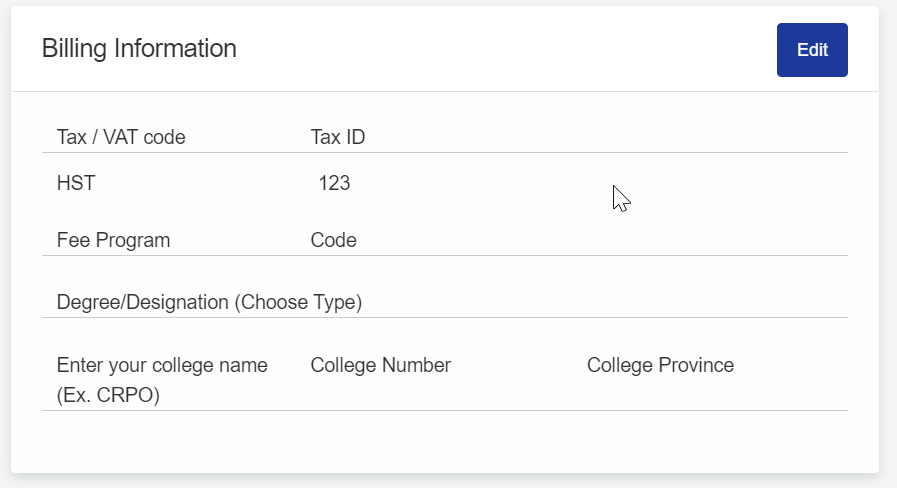 For full details on this please refer to our support article here.
Adding a "Little About You"
To add a small biography you can take the following steps:
Under A little bit about me click on Edit


Updating your Provider Instructions
You are able to add a list of provider instructions that will be viewable on the client portal as well as can be configured to appear in notification templates.


To update your provider instructions, please do the following:
Under the Provider Instructions section click on Edit




Enter any instructions within the text box




Press Save when done